News
Independent Edeka shop owner automates scanning at the checkout with Itab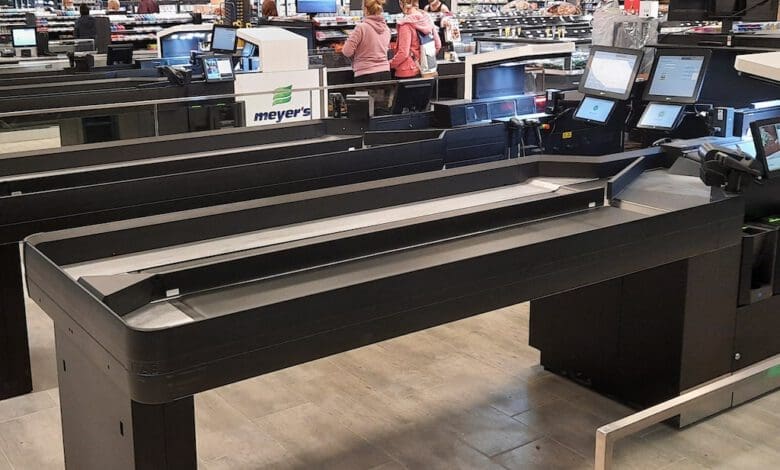 The newly opened Edeka store at the Freesen Center in Neumünster offers customers an efficient way of checkout. Independent shop owner Meyer, who ia associated with Edeka Nord, has installed two ScanMate self-checkout systems from Swedish shopfitter Itab. At the partially automated checkout counters, one cashier can serve two customers at a time. They also no longer have to drag goods over the scanner by hand.
Customers place their purchases on the conveyor belt as usual. Products are automatically registered and conveyed to the packing zone. A 360°-degree scanner recognises the articles using built-in Datalogic scanners as well as Itab's proprietary recognition technology. Payments can be made by card or cash. The cash register runs an application by GK Software. Cash payers use Glory cash management machines, which also give change.
Cashiers are relieved
Cashiers now rarely intervene in the checkout process. They help customers in case of problems and control sales of age-restricted products. Furthermore, the belt stops when fruit or vegetables reach the scanner. Although they are weighed automatically, the cashier must select the appropriate product via touch screen.
In this way, one cashier can easily serve two customers at once. At Edeka Meyer's, four shoppers can use the self-scanning system at the same time. This store is only the second in Germany to introduce the Itab ScanMate system. In April this year, Edeka Oertwig installed one of the new checkout counters in the city of Henstedt-Ulzburg.
Alternative for large shopping baskets
In contrast to usual self-checkout systems, which are becoming increasingly established in German food retailing, ScanMate systems are primarily aimed at customers with large shopping baskets. They thus offer an alternative to mobile self-scanning.
The use of hand scanners or shoppers' smartphones allows customers more transparency on their shopping while they are browsing the shelves. At the same time, retailers can communicate product information or advertising messages. However, not every consumer is willing to get used to operating such mobile systems. Automated, or more precisely semi-automated checkouts offer comparable efficiency without forcing customers to change their usual shopping behaviour.