News
Tegut launches loyalty app Tebonus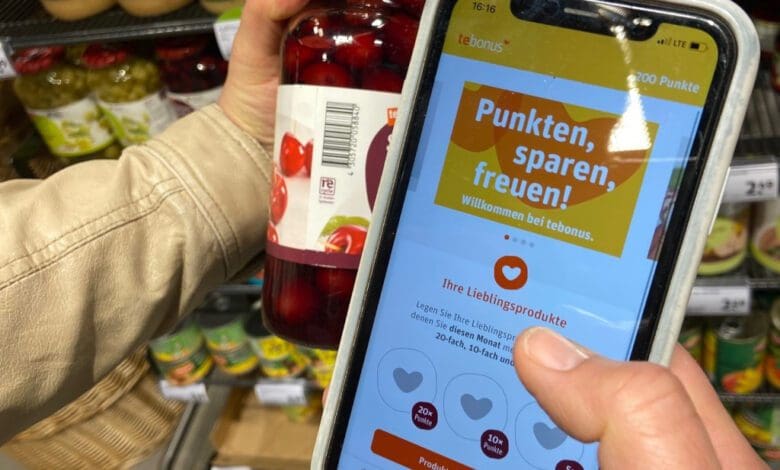 Tegut has launched its new smartphone-based loyalty programme Tebonus this week. It replaces the regional grocery company's previous customer card Gute Karte. In the new loyalty app, customers can choose which products they want to score the most points with, thus providing the grocery retailer with valuable insights for shaping its assortment.
With Tebonus, Tegut customers can customise the loyalty programme according to their preferences and individually determine each month which products they would like to score more points with. Shoppers choose up to three favourite products from a large part of the Tegut range and score up to 20 times more points. Excluded from the selection of favourite products are, among others, tobacco products, publishing products, mobile phone credit, gift vouchers, Tchibo articles, lottery products and deposit amounts.
In addition, seven monthly changing promotion products are available for multiple points in the Tebonus app. Shoppers can even score up to 30 times with the promotional products. Customers make their selection in the loyalty app or on the website.
Solid data basis for listing decisions
Customers collect loyalty points with every purchase of two euros or more. For every two euros spent, shoppers are rewarded with one Tebonus point. Each point is worth one cent. Customers can redeem their loyalty points at the Tegut checkout when paying. The value of the redeemed points is deducted from the invoice amount.
Tegut obtains data on the shopping behaviour and interests of its customers through the Tebonus app. Customer-specific evaluations of the size of the shopping basket in conjunction with the selected favourite products helps the grocery retailer to bind its customers — especially the most valuable ones — to Tegut in the long term by making the right product range decisions. The data generated by the app shows Tegut changes in shopper behaviour over time and helps the retailer shape future assortment strategies.
For Tegut, the loyalty app Tebonus is the third app within the Tegut family. With Tegut's Teo app, customers in the Fulda area can shop in the retailer's unmanned mini-stores (The Retail Optimiser reported), and with the Fluxx app, customers scan goods in the Tegut stores themselves (The Retail Optimiser reported). The app developer of the self-scanning app Fluxx is Tegut's in-house agency Aracom.