News
Deutsche Bahn opens checkout-free ministore with AiFi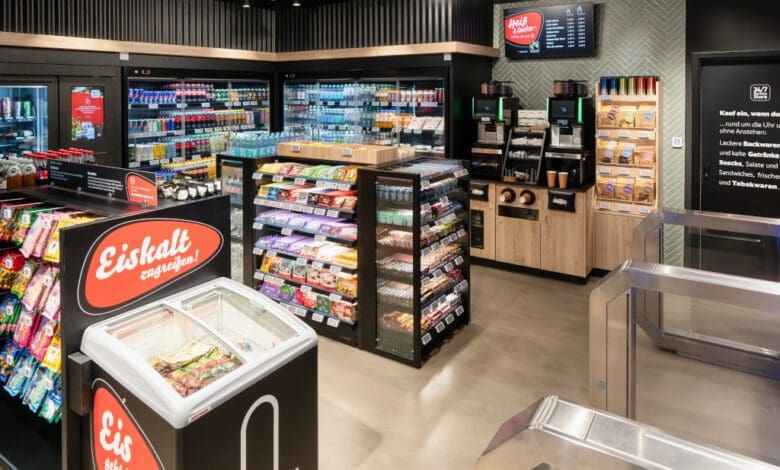 At Berlin's Ostbahnhof station, DB Station&Service AG has opened a checkoutless store as a 24/7 ServiceStore with technology from Californian Grab&Go specialist AiFi. Cameras on the ceiling and sensors in the shelves of the 40 square metre store replace scanning completely. It is the first publicly accessible AiFi store in Germany. Another outlet in Germany automated with AiFi belongs to the Polish sales line Żabka Nano and is located on Tesla's premises in Berlin.
The 24/7 Service Stores at Berlin's Ostbahnhof is operated by the German subsidiary of British travel gastronomy and convenience specialist SSP Group. The new travel outlet offers cold drinks, coffee, fresh baked goods, convenience products as well as alcohol and tobacco vending machines for travellers and commuters around the clock on 40 square metres.
Customers must use the 24/7 ServiceStore webapp to access, purchase and pay. Access is controlled with Wanzl's Galaxie entrance gates. To purchase age-restricted products, customers must provide a photo of their ID card in the app.
More than 100 AiFi stores globally
The Californian technology provider AiFi has equipped the largest number of cashierless stores to date with more than 100 – mainly due to the Polish Żabka Group, which alone already has more than 50 of its fully automated Żabka Nano mini-stores in operation. Aldi Süd has been operating an Aifi-equipped checkout-less store in London since 2021, as reported by Retail Optimiser. Companies testing AiFi in live operations also include Carrefour, Compass Group, Morrisons and corporate caterer Sodexo.
Last year, Deutsche Bahn opened a 24/7 service store operated by Valora at Düsseldorf's main railway station, where customers have to scan the goods themselves using the app during periods when staff are not on duty, the Retail Optimiser reported.