News
Edeka Südwest opens automated store with robotics from Smark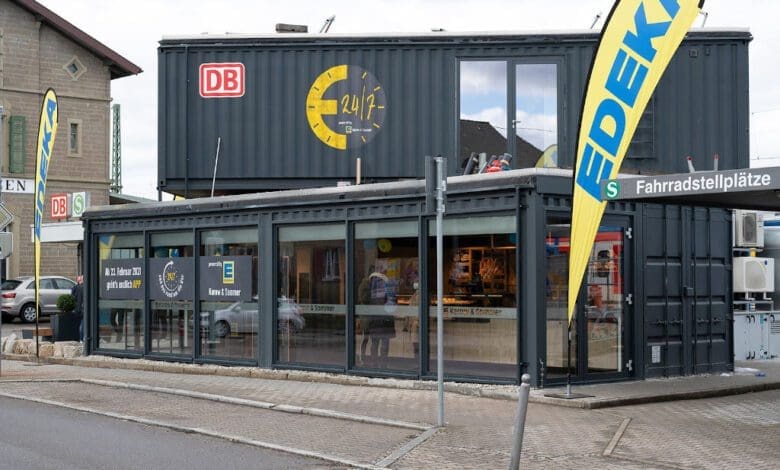 Since this week, the fully automated 'Edeka-Markt 24/7 Karow & Sommer' at Renningens (Germany) railway station is providing travellers and residents with groceries and everyday goods around the clock — every day of the week. At the new mini-store of the regonal Edeka co-operative Südwest, shoppers order on the go via app or on a touchscreen in the store. The goods are then picked by a Smark robot in the back area and made available at a counter. Payment is made by bank card or online via app.
Last year, Campo, the company of former Tank&Rast manager Carlo Caldi and his co-founders Moritz Schumacher and Maximilian Grönemeyer, invested in Stuttgart-based start-up Smark. With Type, they had opened a showcase in Düsseldorf in November 2020. The Retail Optimiser reported.
Edeka Südwest's minimarkt is also the first fully automated store at a railway station. It was realised in cooperation with Deutsche Bahn and Smark and is part of the Future Stations project, where Deutsche Bahn tests innovations together with its partners. The data generated helps all cooperation partners to track changes in shopping behaviour over time and to design future strategies.
Further locations are planned
The initial selection of 300 SKUs is to be gradually expanded to up to 800 items. The new mini store will offer a selection of basic groceries including refrigerated products and drugstore items. Freshly brewed coffee specialities are also part of the small market's offer. The assortment of the mini-store shows the signature of independent Edeka retailer Karow and Sommer, who offer specialities from the region in all their stores, such as Siegel bakery products from Stuttgart.
"A snack on the way to work or even spontaneous weekly shopping, everything is possible and completely independent of time," says Edeka store manager and owner Gisela Karow-Schäfer in a press release. The market in Renningen is the first of its kind at Edeka Südwest. "We are looking forward to further locations in the south-west of Germany," explains Jürgen Mäder, Managing Director of Edeka Südwest. "The concept is particularly suitable for small areas with high frequency," Mäder continues.