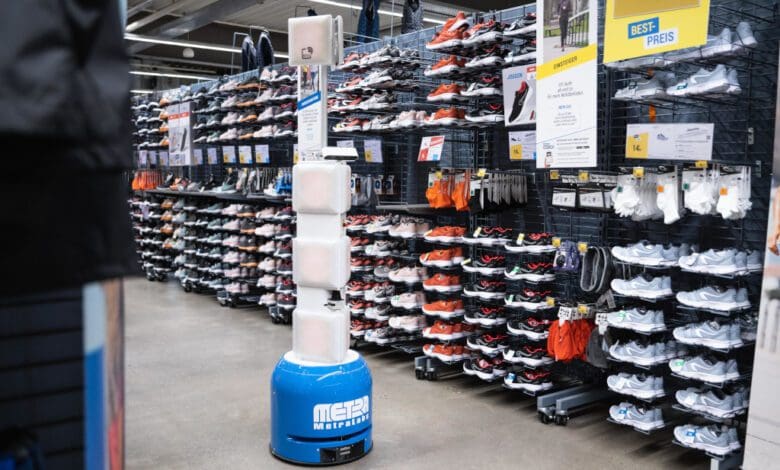 Robots are taking over routine tasks at retail companies that have tagged all products on the sales floor with RFID. In addition to Adler Modemärkte, French sporting goods retailer Decathlon has now decided to use the Tory RFID inventory robot from MetraLabs for automatic stocktaking in more than twelve stores in Germany.
Decathlon had also used robots for stocktaking in the USA, there with devices from Simbe Robotics. However, Decathlon has since abandoned its store operations in the USA and only sells its goods there online and through retail partners.
In Germany, from June 2022, RFID robots will take over stocktaking in the stores in Plochingen, Würzburg, Unterföhring and Berlin Alexanderplatz, among others, Decathlon told Retail Optimiser.
Reduces overstock and shelf gaps
This should relieve staff of routine tasks and give them more time to advise customers. Orders will be triggered more reliably due to more accurate data, and overstocks and shelf gaps will be reduced. Employees will be relieved of routine tasks and have more time to advise customers. The technology has already been tested and validated in Belgium and used in a pilot store in Ludwigshafen.
In Germany, Decathlon currently operates 84 stores. Compared to other country operations of the sporting goods retailer, which alternatively carry out inventory using ceiling antennas, the use of Tory in Germany has proven to be more cost-efficient for stores with an area of more than 2,000 square metres.
RFID robots speed up the inventory process
RFID technology has already been used worldwide at Decathlon for inventory monitoring since 2009 and, among other things, also enables self-checkouts that do not require a barcode at all. Until now, the RFID labels in the stores were recorded by the employees using so-called racks. In the future, automated stocktaking will be up to 10 times faster thanks to the use of robot technology. For example, in the pilot store in Ludwigshafen, Tory needs only three and a half hours and no staff for an area of 4,300 square metres with 93,000 products.
Tory drives through the store and scans the items using 16 RFID antennas placed at different angles on the robot. As an advantage, the exact position of the RFID tags on the goods is less important because they can be detected flexibly, Decathlon said. Tory sends an electromagnetic field and receives unique information back from each RFID tag. The change in the field is registered and the data is transmitted to the connected merchandise management system via interface.
Availability needs correct stocks
In this way, the forecasted and actual stocks can be daily displayed, and the deviations can be checked by the employees. "Our most important indicator for the success of the project is the availability of our products. Since the start of the test, it has been increased by five percent in the Ludwigshafen store than in comparable other Decathlon stores," said Sven Neuheisel, project manager for the RFID robot at Decathlon Germany in a press release.
The majority of Decathlon's assortment currently consists of 75 private label lines, which are usually RFID tagged during the production process. For country-specific assortment modules, RFID tagging is not a prerequisite for cooperation, but solutions are being worked on with the supplier to integrate tags into the products before they arrive at Decathlon's logistics centers or stores.
Decathlon Germany relies on MetraLabs
With MetraLabs' robotic solution Tory, Decathlon Germany says it has found a long-term and flexible robotic solution that delivers the best possible scanning results and is technically adapted to the stores' needs. Furthermore, the good experiences with MetraLabs in other Decathlon countries as well as the proximity were decisive for a further cooperation.
Tory is TÜV certified, drives fully autonomously for up to eight hours at a maximum speed of one meter per second before having to pause at the charging station for two to three hours. Although it can evade things and people on its own through 3D obstacle avoidance, Decathlon has opted to use the fully automated inventory process outside opening hours.
Operational times can be manually programmed by staff so that the data is available at the start of the shift. Staff can also make changes to the robot's navigation map if, for example, the store is rebuilt and stocked with new products at the beginning of a season.
Tory RFID works without camera technology and can also drive in the dark. Laser scanners and depth sensors are used for obstacle avoidance. Optionally, cameras can be retrofitted to record 360-degree images of the store, which could also be viewed with virtual reality glasses.
Articles can be clearly assigned with RFID
The robot can recognise RFID tags up to a range of five metres. The actual range depends on the retailer, the tags used, their location and the operating environment. Tory first detects the RFID tag of the item and its location. Each item is identified by a unique number on the RFID tag during inventory.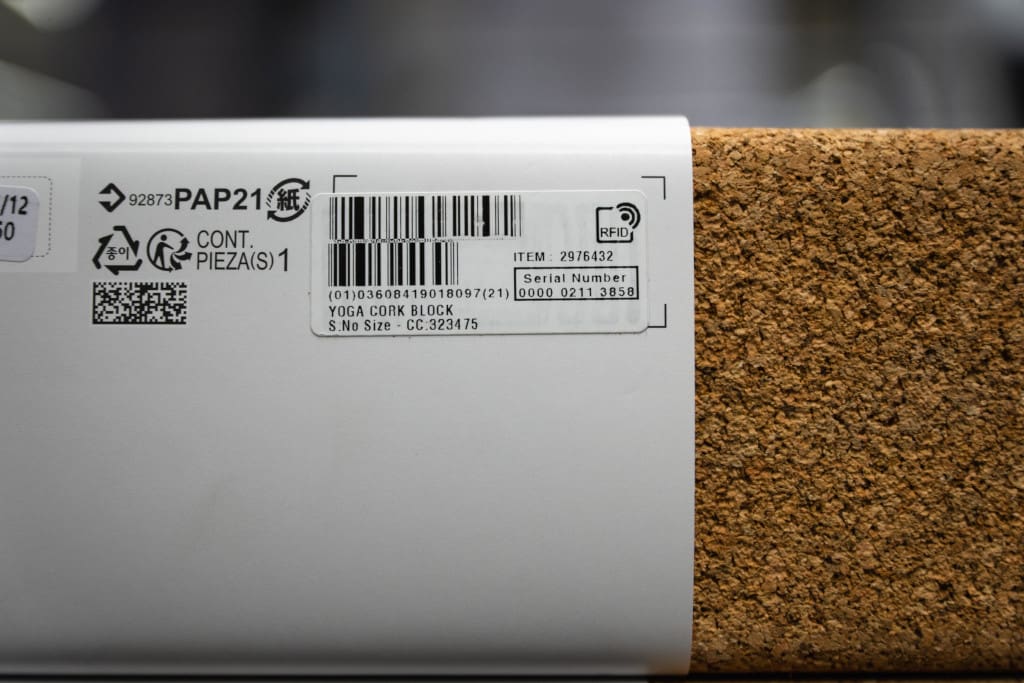 In the fashion sector, the Electronic Product Code (EPC), which is coded according to the GS1 standard, is stored on an RFID chip as standard. It contains, among other things, the EAN13 article number, further retailer-specific data, and a serial number of the product. By assigning the numbers in the database, the articles are also identified according to size and colour.
Further retailers use the robot from MetraLabs
Besides Decathlon, only a few other retailers, including Zara, Gerry Weber, and the Adler Modemärkte, have equipped their entire inventory with RFID tags. Adler Modemärkte has also been testing MetraLabs' Tory RFID model in some stores since December 2015 and rolled it out to all stores in 2021. Roland Leitz, who since has left the company, said of his time as head of IT at Adler Modemärkte: "Thanks to Tory, we can continuously record our stocks precisely and execute orders at an early stage. This significantly improves our planning and saves us time and money."
Recently, Kmart Australia has also decided to use this robot to monitor stocktaking in its stores in Australia and New Zealand. The department stores' chain, which is part of Australian retail group Wesfarmers, also uses RFID on individual products in its 323 stores in Australia and New Zealand.
Robots with image recognition software
Unlike retail companies that use RFID on individual products, robots have had less success with those that, like the entire grocery retail sector, do not have RFID on items and are unlikely to roll it out across the board.
Some retailers that do not use RFID on individual products are experimenting with robots that use image recognition software to relieve sales staff of routine tasks. The use of robots is limited to detecting gaps in the shelves and deviations from planograms in the placement.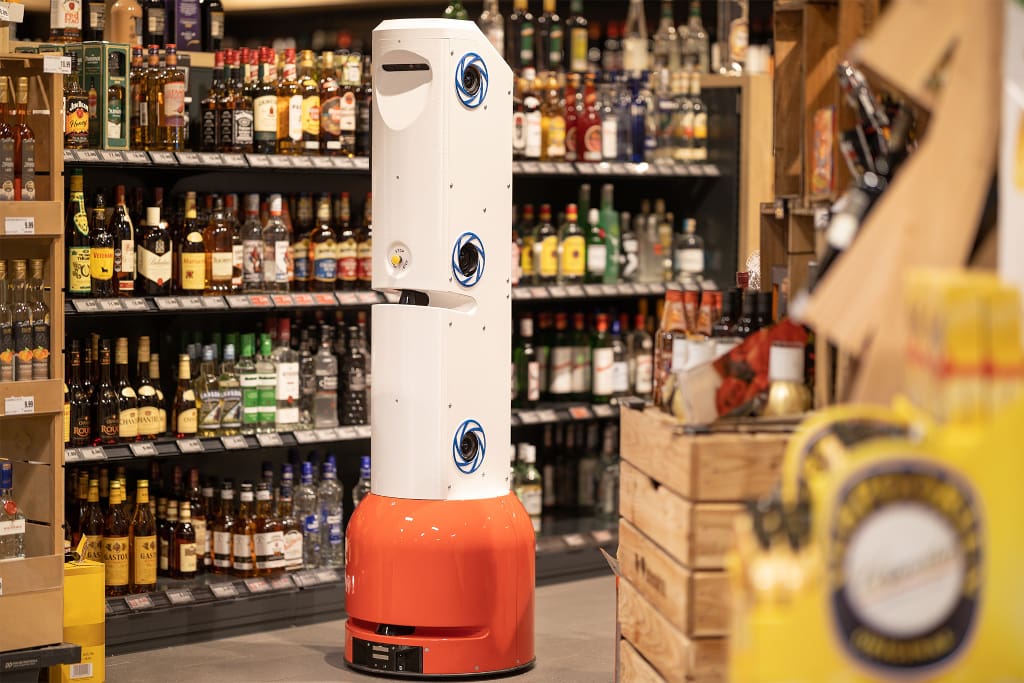 Camera technology can usually only capture the front facing of products on the shelf and not the entire stock. This technology is therefore not suitable for stocktaking. In addition, it is possible to use cameras on the opposite shelf instead of robots to always keep an eye on the facings.
As the Retail Optimiser reported, the primus of US retail, Walmart, tested the use of inventory robots from start-up Bossa Nova Robotics in 500 stores from 2017 until the end of 2020, but then decided against it because, from the company's point of view, employees can do the tasks just as well and efficiently. While the employees are assembling items for online customer orders, they can simultaneously carry out stock checks at the shelf. In addition, the company feared negative customer reactions to the use of robots on the sales floor.
Auchan Portugal tested the Tory Shelf model, also from MetraLabs, at a store in Alfragide near Lisbon, Retail Optimiser reported. It uses cameras and a maximum runtime of 12 hours to autonomously create high-resolution images of entire rows of shelves. These are analysed using image recognition software from computer vision specialist Qopius, which is now part of Trax. Shelf gaps and misplacements can be displayed and checked by the staff.
Lidar guides Tory
The Tory Shelf Robot from MetraLabs orients itself to a map that it creates during set-up. It updates changes to the store layout independently. The data is transmitted to the cloud via WiFi or LTE. If the bandwidth is low, the robot can also process it directly with additional graphics processors. Just like Tory RFID, Tory Shelf can avoid obstacles autonomously and with the help of 3D technology. It contains lidar sensors, which have so far been tested for autonomous driving in the automotive industry, among others. They emit laser beams whose reflections create a three-dimensional light image of the surroundings. It also contains an integrated PC as well as a computer chip (GPU) that can perform calculations for image rendering particularly quickly.