News
Edeka and Penny secure shoppers' smartphone with Wanzl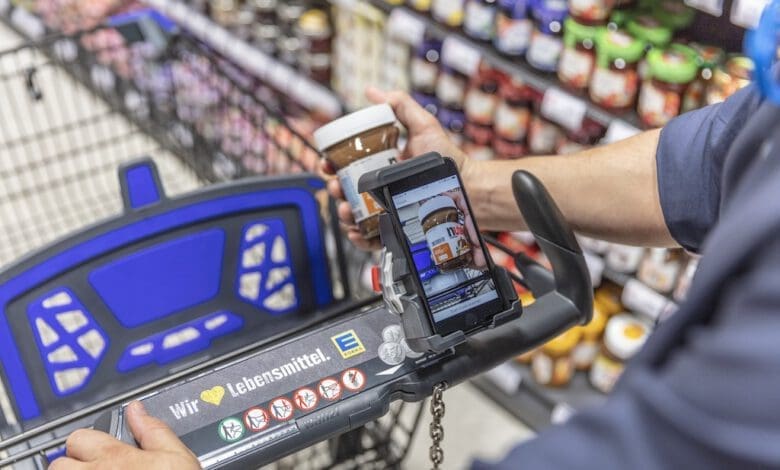 In Germany, Rewe Group has equipped a first Penny store in Eching with SmartFix from Wanzl. The Smartphone holder at the shopping trolley secures customer's devices during shopping. Edeka stores will also install the system. Users can insert their mobile phone into the holder attached to the shopping trolley handle. A two-digit numerical code protects it against unauthorised access.
Shoppers are using their smartphone increasingly in stores. They view their shopping list, obtain product information or compare prices. After initial scepticism, retailers have recognised this as an opportunity. Many companies now offer their customers apps to support their shopping, providing extensive functions such as digital flyers or coupons as well as self-scanning and mobile payment. Lidl most recently introduced its digital customer card Lidl Plus at the beginning of this month, as The Retail Optimiser reported.
Convenient and secure use of the smartphone in the store
But where to put the smartphone during the shopping trip? If you hold it firmly, only one hand is left to push the trolley or take products from the shelf. And you don't want to pull the device out of your pocket and back again all of the time. If you put it in the shopping trolley, there is a risk that the valuable device could be stolen.
The SmartFix holder is attached to the handle of the shopping trolley at a slight angle. This allows the customer to watch the display clearly and operate it easily. The holder is suitable for universal use with all common Smartphones. The opening code protects the device from unauthorised access. Should the user forget the code, store personnel can open the cradle using a master key.
SmartFix has already been successfully implemented, for example at a store of Rewe Group's discounter Penny in the city of Eching. According to the manufacturer, various Edeka retailers have also opted for the Wanzl system. It can also be retrofitted to existing shopping trolleys. Therefore, it can be expected that many more retailers will allow customers convenient shopping with their mobile phones using SmartFix.